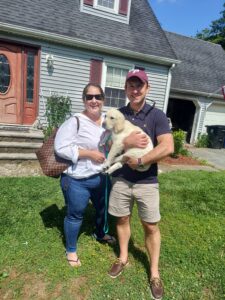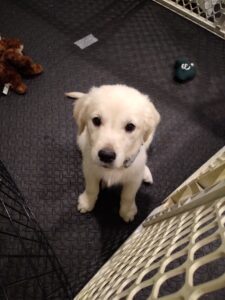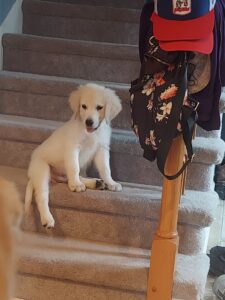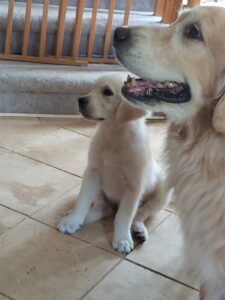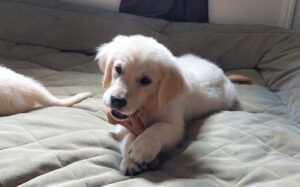 LIFE IS SO GOOD IN MY FOREVER HOME!
This adorable cream colored golden puppy has found his forever home. This sweetheart came to GoldHeart after a PA breeder was getting out of the business.
What we know about Sherman…he is a ball of energy pup. He enjoys playing, but will cuddle as he gets sleepy. He loves to play with toys and his siblings. He is pretty fearless, is very smart and will go to the door or bark to go outside. Also, walking on a leash is going well. He gets excited for mealtimes and he is the most vocal of the bunch. He likes to play with the resident older golden too. He would do best with someone who knows how to get his energy out. Sherman is definitely not a couch potato.
Gender: Male
Age: Born 4/6/23
Weight: Currently weighs 18 pounds, and the vet estimates he will land around 70-75 lbs.
Health: UTD on puppy vaccines for his age. He was dewormed 2x and treated for skin infections. He is now a healthy boy.
**Sherman was be adopted out with a GoldHeart Puppy Contract, and the forever home will need to have necessary puppy vaccines completed, and altered at approximately age 1. Proof of spay/neuter (vet invoice/spay certificate) will be required. Upon receipt, GoldHeart will reimburse the forever home up to $100 towards the surgery cost.**
Adoption fee: $850