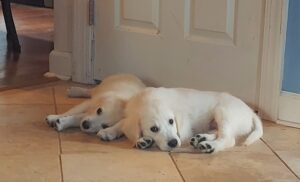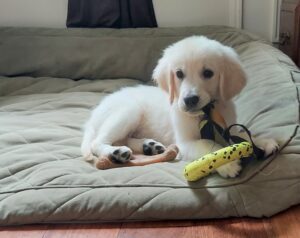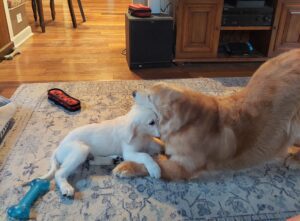 Lucky Me, I have a forever home!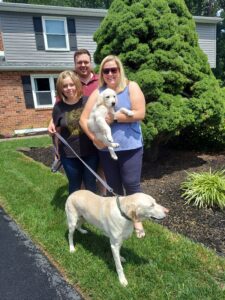 Check out my new family, complete with a welcoming dog! Woof! Woof! This sweetheart came to GoldHeart after a PA breeder was getting out of the business.
What we know about Grant…he is what we call a middle of the road puppy. He enjoys playing, but also cuddling. He loves to play with toys and his siblings. He has come a long way with some of his uncertainties and walking on a leash is going well. He gets excited for mealtimes. He is finally healthy and ready to find his forever home. He really loves to play with the resident older golden in his foster home, so Grant would probably love to go to a home with another welcoming and playful dog!
Gender: Male
Age: Born 4/6/23
Weight: Currently weighs 17 pounds, and the vet estimates he will land around 70-75 lbs.
Health: UTD on puppy vaccines for his age. He was dewormed 2x and treated for skin infections and he beat parvo. He is now a healthy boy.
**Grant will be adopted out with a GoldHeart Puppy Contract, and the forever home will need to have necessary puppy vaccines completed, and altered at approximately age 1. Proof of spay/neuter (vet invoice/spay certificate) will be required. Upon receipt, GoldHeart will reimburse the forever home up to $100 towards the surgery cost.**
Adoption fee: $850