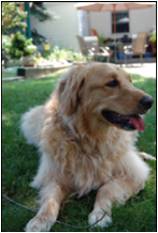 July 31, 2005 – April 30, 2018
June 19th, 2008, was one of the happiest days of our lives. That was the day we were lucky enough to adopt our golden boy Baxter. My mother always said "You two won the lottery, HE is just THE sweetest dog" and indeed we did, and indeed he was.
He was our joy, our heart, our love. We will miss him all of our days. He was our guy. #rescuedog. Thank you GoldHeart for every wonderful day we had with him. Barb Schaefer we will be grateful to you for bringing him to us until the end of time.