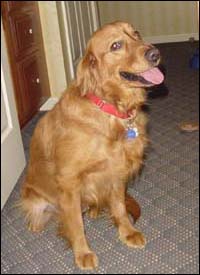 Stacey, was adopted into her forever home 3-12-2006.
I would like to thanks my Foster mom, Linda, for finding me a home with my new Daddy, Mike. He sure loves me and tells me always. I love to get in the car and ride, and jump in the bed and get lots of attention and pets at night. Daddy makes me sleep in the bed-its too cold and hard on the floor. I get some treats and give my Daddy a paw and a kiss for them. I have a nervous stomach, so I still get burp up a little food 1-2x month, but my Daddy pets me so I don't feel bad.
My Daddy says he is so lucky to have me, and wants me to smile always and be happy. Thank you foster Mom Linda for holding me and then finding a great home where I am so loved. My Daddy says I'm the best ever!
Love- Stacey (formerly Casey)